His humorous style and light-hearted approach effectively convey the message that safety is vital.
A professional keynote speaker, Martin has presented at conferences, facilitated workshops, and spoken to countless associations and corporations throughout North America.
Employed as a professional firefighter and paramedic, this best-selling author will demonstrate safety tips and drive home information that will prevent injuries, both on and off the job!
Industrial safety is a critical topic for his corporate clients. Worker injuries account for a large part of employee benefit costs.
Looking for a Great Way To Start Your Safety Meetings?

Safety Moments are short video clips that serve as a icebreaker for any meeting.

To preview them now go to www.safetymoments.com
Or call 1-888-278-8964 for more information.

Every Meeting Needs a Safety Moment...
A great safety gift
for your employees!..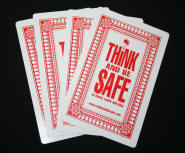 Click to see the safety card gift
Thus, fire safety, home safety and even school safety have become vital ingredients for a healthy corporate bottom line.
So, let Martin improve your corporate well being by providing a healthy dose of home and workplace safety tips as well as information to help prevent injuries and accidents.
Contact Martin now for an entertaining and motivating boost to employee safety. After all, a healthy employee is a productive one!